Yarradale Stud dominated the Perth Magic Millions on Tuesday with its Beneteau – Zaldivar colt topping the session at $340,000.
Local trainer Neville Parnham had the final say after going head to head with Sydney based Gary Moore.  "He was probably the best colt in the sale," Parnham said.  "The Beneteaus are burning up the track so we were pretty keen to have a go at him."
Parnham bought the colt for his main client Santo Guagliardo.  The pair were active at the Gold Coast Magic Millions last month paying $220,000 for a Testa Rossa brother to Testamezzo and $180,000 for a Testa Rossa filly from G1 Ellicorsam.
They also race Light Up The Sky who was runner-up in Saturday's Perth Magic Millions 2YO Classic.
The Beneteau colt is a half brother to four winners including the Group 2 South African star Honorine.  "He looks well developed and is a very mature colt," Parnham said.  "We plan to head to the Gold Coast for the $2.50 million Magic Millions 2YO Classic next year."
Next best on the leader-board were three fillies and a colt that all made $160,000.
Yarradale graduates that shared that price-tag were the War Chant – La Sirenuse filly bought by Dan Morton and its War Chant – Queen's Gem filly that was knocked down to Boomer Bloodstock.
The other two were Oakland Park's Charge Forward – Corina Gal colt purchased by Mt Hallowell Stud and Dawson Stud's Sepoy – Paradise Park filly that attracted Damon Gabbedy of Belmont Bloodstock Agency.
Magic Millions reported turnover of $6.35 million on a clearance rate that plummeted 19 points to 63%.  The average dropped 10.3% to $52,102.
"It's been a tough day at the office," Magic Millions Managing Director Vin Cox stated.  "The one shining light of the sale was the highest priced horse we've sold at the sale since 2007.
"We're extremely disappointed with the clearance rate – there's no hiding behind that.  The average has come in a little under last year which is also disappointing."
Book 2 of the Perth Magic Millions will commence at 11am (Perth time) on Wednesday.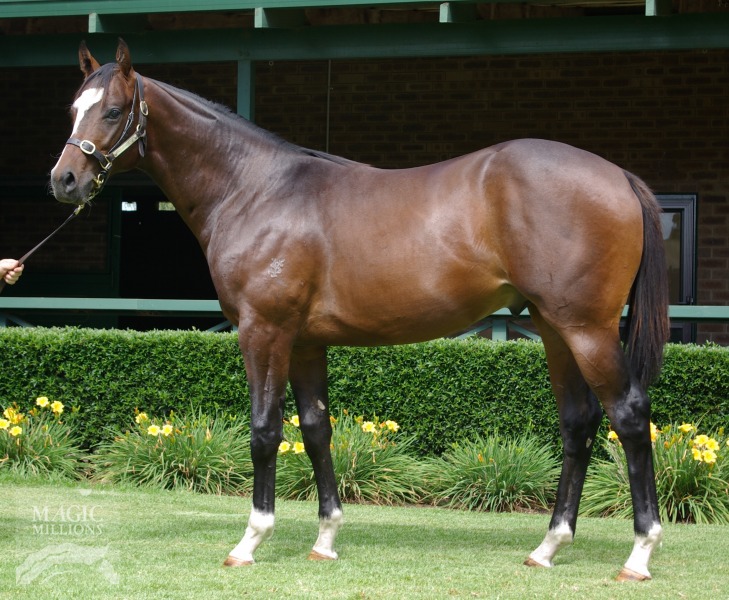 TOP-PRICED BENETEAU COLT FROM YARRADALE STUD