Mark Pilkington has for many years been the man behind the man; deal maker, deal breaker, cool head, valued mate.
For the most part, that "man'' has been David Hayes.
Pilkington has been an important but not always centre-stage part of the Hayes family story; mostly as bloodstock manager and go-between but also a calm guiding hand in times of crisis, including the deaths of his father Colin and brother Peter, and the disastrous financial hit via ill-fated conman Mike Bastion.
When Hayes took his leap of faith, and leap of location, by selling the family's long-time base at Angaston, South Australia, to Euroa, it was "Pilko'' who found and bought the property and was integral to a transition that was a huge financial risk.
When Hayes was in Hong Kong, where he trained for a decade, Pilkington managed the ship Down Under and sourced his HK stock.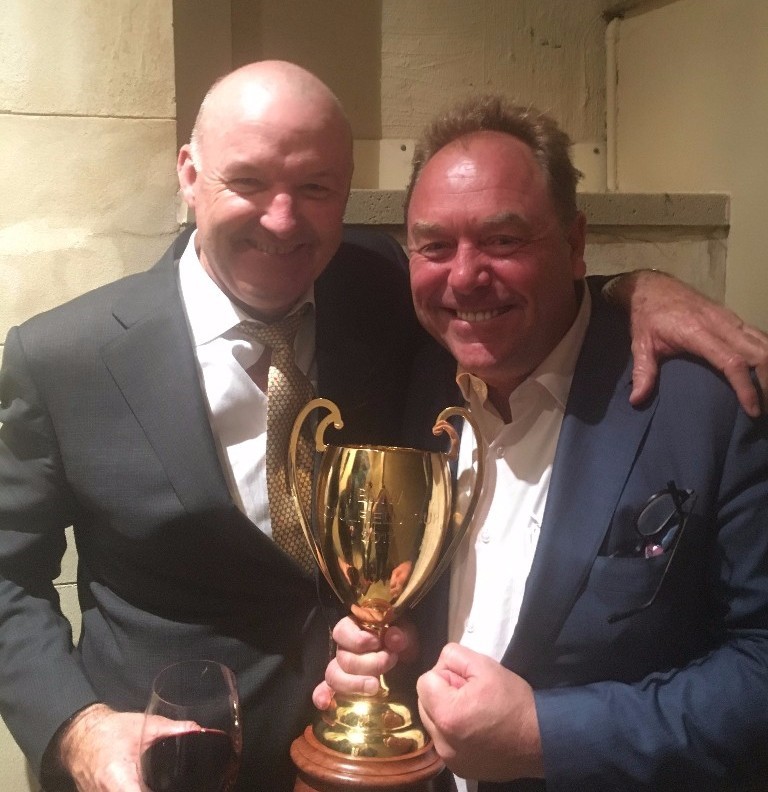 The relationship has evolved; Pilkington is no longer employed by Hayes – "Dave often tells me I was easier to get on with when I worked for him'' – but Mark Pilkington Management remains closely linked to the trainer, managing 25 horses in the stable – primarily through Seymour Bloodstock's Darren Thomas.
Those horses include He's Our Rokki, who ran unplaced in last Saturday's Caulfield Cup, which was in some ways an awkward "watch'' for Pilkington.  As Hayes greeted long-shot winner Boom Time back the winner's stall, Pilkington stood nearby and provided an interesting, bitter-sweet angle to the win.
Pilkington was born and raised in WA and was employed by Hayes in 1999 after selling his auction business to Gerry Harvey's blossoming Magic Millions.  Kim Loxton was one of his earliest clients who became a mate – still is.
Pilko tells the story:  "One of my oldest racing mates from the west is Kimmy Loxton – we've known each other for over 30 kg / years – it's fair to say that we both find tie-makers seem to be making them shorter these days."
Loxton's business interests in the WA North-West fell victim to the banks 'Red Alert Post Code' policy which meant he could no longer afford to indulge in his great passion of racing horses.  His wife Cheryl bred Boom Time and it was raced by Kim's Ferrari Breeding and Racing entity until he hit the hard times.
"After being beaten 30 lengths in the Sydney Cup and having history of a bowed tendon the horse's future looked bleak.  I tried to sell him as a stallion but couldn't find any takers.  Clients of mine raced his close relation called Beluga Caviar (an expensive yearling by Redoute's Choice) and he ended up being gelded as he also couldn't find a home at stud in the very competitive stallion market that exists in Australia.
"Kim owed Dave quite a few bucks so Dave took the punt and bought the horse to off-set the debt. Once the debt was cleared the remaining sales proceeds were paid to the Administrator dealing with Kim's affairs.
"Arranging the deal to sell Boom Time provide me with mixed emotions.- It was a high risk buy by David (he implored me to take a leg but I thought the risk/reward profile was too great so I politely said no thanks — aarrggghhh) that was more about helping out a mate, so I'm chuffed for him.  Good things happen to good people.
"Kimmy and Cheryl were pragmatic about the sale and were cheering as loud as anyone on Saturday afternoon. They are now concentrating on rebuilding their business in the knowledge they still own a weanling All American half-brother to Boom Time.
"I also felt for the owners of the high price imports that looked to have the locals measure- most of them are still shaking their heads as to how a sprinting bred son of a Golden Slipper winner (Flying Spur), who is closely related to Black Caviar and has returned from a bowed tendon, beat them in Saturday's Cup."
It's an unusual tale with a familiar ring to it; mates helping mates in an industry of ups and downs.