Winterbottom Stakes day was something of an anti-climax for Maschino even allowing for a winning double with Marocchino and Nowhiteflag.
The Alwyn Park resident was right in the mix to make it a career-high treble in the Group 1 sprint until his mare Wilchino missed the kick as the heavily-backed $2.80 second-favourite.  Jockey Chris Parnham was forced to burn too much juice to get on terms and there was nothing left in the tank when the pressure intensified.
"She's a lot better than that obviously and we will see how she pulls up," Parnham reported.  Stewards sent her for vet tests after she faded to finish last.
On a more positive note, Maschino sired his fifth Stakes winner when Marocchino was successful in the LR JRA Trophy (2100m) for Capel trainer Lou Luciani and his partner Trish Roberts who race the consistent gelding with brothers Mark & Paul Luzi.  They've banked  $690,820 including $231,000 in Westspeed Platinum bonuses making him one of Perth's most successful advertisements for that Scheme.
Saturday's victory could have set up a Group 2 assignment in the Perth Cup (2400m) on New Year's Day.  "That depends on the handicappers and the bloke who waters the track," Luciani said.  "He had a gut-buster last time in the Ascot Gold Cup and I was going to send him to the paddock.  But he recovered down at the beach and Shaun (McGruddy) gave him a good sit behind the speed today.
"He's Trish's baby.  I've never seen a connection like it between a human and a horse."
Luciani won Perth Cups in partnership with his son Dion in 2004 (King Canute) and 2009 (Guyno).
Marocchino's dam Comesitbesideme (McFlirt) won at Ascot but was retired after going blind in one eye.  Roberts has supported Maschino since he first went to stud and she has a couple of unraced full-brothers to the JRA winner named Shakerato and Frappuccino.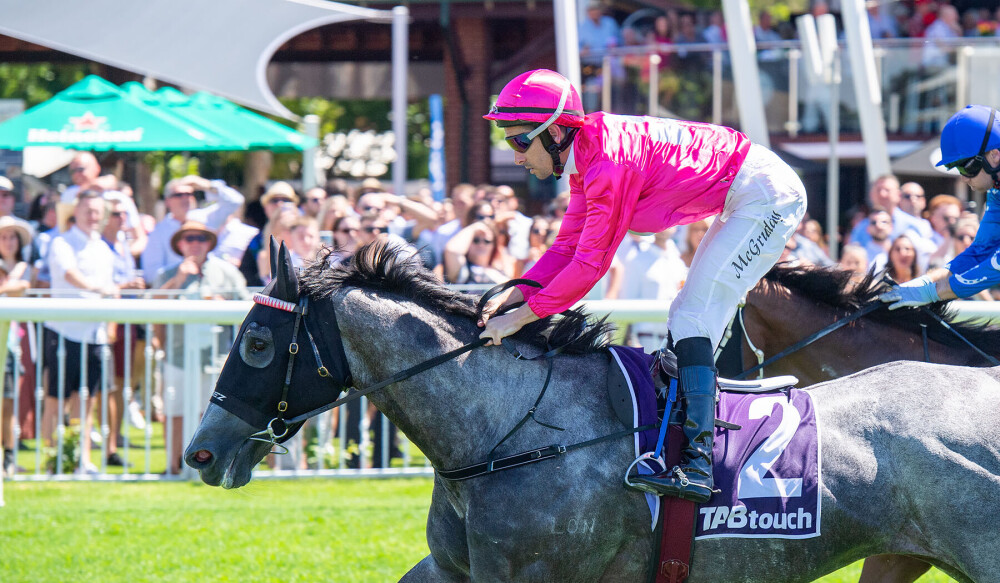 Trainer Todd Harvey rated Nowhiteflag as potentially the best sprinter he's saddled following a brilliant front-running performance earlier this season at Ascot.
He's certainly not flying high with that assessment in the wake of another dominant victory in the $100,000 TABtouch Westspeed Platinum Final (1400m) yesterday.
Nowhiteflag (Photo: Western Racepix) is a younger brother to Maschino flag-bearer Fabergino and is raced in the same interests as the grey flyer who won a half-dozen black-type sprints up to Group 3 level in Perth and Melbourne.
"He's highly-strung like his sister and we've been using ear-muffs to help him settle," Harvey said.  "He also went for a swim this morning, something I don't normally do, and that took the edge off him this afternoon.
"He got into a bit of bother here last time when he didn't lead.  He was out of his comfort zone and that didn't help because he's still not mentally there yet.  He has a low heart-rate and that will be factor in him stretching out further than Fabergino."
Nowhiteflag is a homebred for a syndicate managed by Jim & Teresa Anderson.  They also stand Maschino (Encosta de Lago) in association with Alwyn Park owner John Andrew.
The Andersons purchased Miss Razyana (Danzero) from Turangga Farm's Stuart Ramsey for $36,000 at the 2013 Magic Millions National Sale and she's been served every year by Maschino.  Her latest foals after Fabergino and Nowhiteflag are 3yo filly Faithful Miss, owned by Peters Investments, and a yearling filly prior to missing after her latest cover in October 2020.