God Has Spoken (Blackfriars) sired his first Stakes-winner when Ghost Who Walks capped a career-best campaign in the LR Beaufine Stakes (1000m) at Belmont on Saturday.
Four wins in his last six starts has advanced the Ghost Who Walks bank-account to $437,130.  "He has always shown potential, but I didn't think at any stage we would reach this level," trainer Neville Parnham said.  "He is a sound horse and we've learned that 1000m is his go.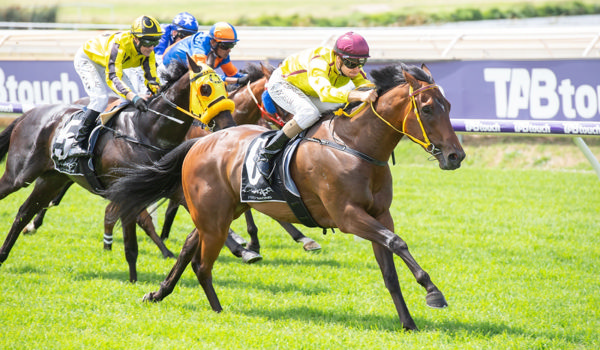 "He's never shirked it and has improved every prep.  I trained God Has Spoken and his dam Death Knock.  I've had all her progeny and they've all won – Playing Zeus (Playing God), Holy Ghost (God Has Spoken) and this guy."
Apprentice Keshaw Dhurun booted home Ghost Who Walks (Photo / Western Racepix) who charged down the outside from sixth on the turn to nail the favourite Real Danger (I Am Invincible) by half a length.  Nerodio (Playing God) finished third when attempting a hat-trick in the winter sprint.
"He's my favourite," Dhurun said.  "I sat midfield, three-wide with cover and my horse was nice and relaxed.  He gave me a very good sprint."
Owned by Cockatoo Ridge breeder Colin Loxton, Ghost Who Walks is one of four winners from as many to race out of Death Knock (Lonhro).  The mare was bred by Wally Daly and is a half-sister to Listed winner Raido (Husson).
God Has Spoken stands at Rivercrest Park for $3,300 alongside Ducimus ($4,400).  Both fees (inc GST) and are payable on a live foal.