Federal politicians have pledged bipartisan support for the thoroughbred industry, emphasising its importance to the economy and the integral part it plays in the social fabric of rural, regional and metropolitan Australia.
More than 40 MPs and Senators from across the political divide gathered with industry leaders at Parliament House in Canberra on Monday evening for an event hosted by Thoroughbred Breeders Australia (TBA) and the Parliamentary Friends of Primary Producers, which was staged for the first time since the pandemic.
Agriculture Minister Murray Watt reaffirmed the government's support of the thoroughbred industry and its assistance with issues such as biosecurity, horse traceability and equine welfare initiatives.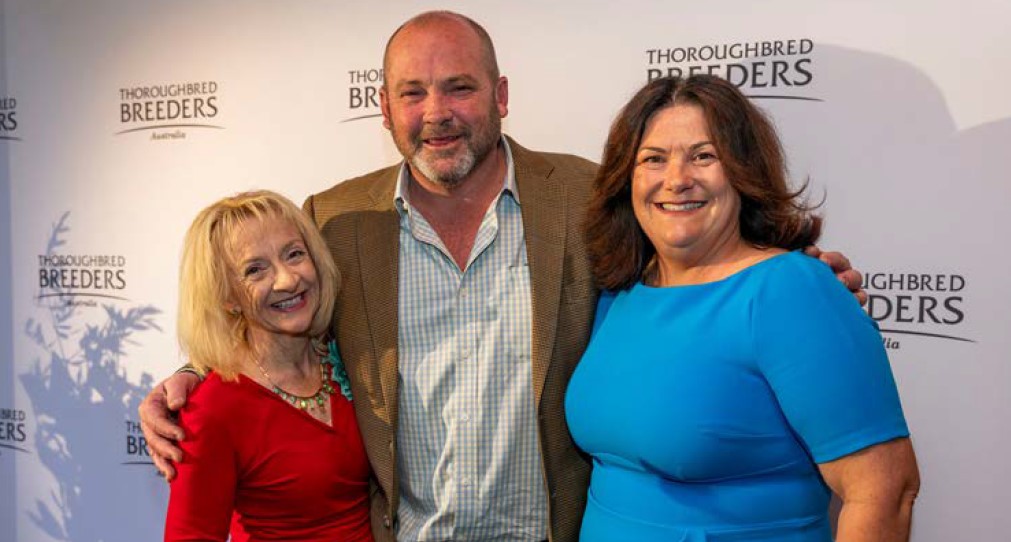 "It is a really important opportunity for us all to celebrate this important industry and I guess I just want to convey to you the support from the Albanese government for your industry," Mr Watt said.  "There's a lot of collaboration going on between our government here and the industry and I look forward to continuing to do that in the future."
Photo / Nola Marino, Peter Moody & Meryl Swanson
Nationals Leader David Littleproud backed up Mr Watt's bipartisan approach to the thoroughbred industry.   "To each and every one of you, please don't underestimate the role and the significance that you play in regional and rural Australia, and that you play for this nation," he said.
"The thoroughbred industry is so important from the city to the bush. It plays not just a financial one and an economic one in jobs, but it's our outlet, an outlet for so many Australians to come together."
The cross-party event was run by co-convenors, Western Australian Liberal MP Nola Marino and NSW Labor MP Meryl Swanson, and held in the private courtyard of Speaker Milton Dick.  Marino breeds and races horses from her electorate of Forrest in WA.
TBA chief executive Tom Reilly conducted a range of one-on-one meetings with officials and politicians prior to the cross-party event discussing issues such as the government's impending wagering reforms.
"Events like this are so important for the thoroughbred industry. In breeding and racing we have lots of touch points with the federal government and these can throw up some complex issues to deal with," Reilly said.
"To have the people who make decisions on policy in the room and listening and engaging with people from breeding and racing is a great opportunity. I was delighted with the turn-out of over 40 politicians including senior members of the government and opposition."
Ms Marino said that it was imperative that the industry remains a thriving one.  "I know this industry employs thousands, but it is critical to underpinning many rural and regional economies as well and the employment opportunities that go with that," Ms Marino said.
Ms Swanson urged thoroughbred leaders to continue to advocate for the industry.   "Keep doing what you're doing, keep representing the industry as brilliantly as you do and onward and upward for thoroughbred breeding and racing in Australia," she said.
The thoroughbred industry creates more than 80,000 jobs while the breeding sector alone is responsible for 11,500 employees, nearly all of which are in regional Australia.   Australia also has more than 100,000 racehorse owners, more than Europe and America combined, underlining the public's engagement with the sport.
Minister for Trade and Tourism Don Farrell, who was a key figure in helping negotiate the reintroduction of thoroughbred exports to China, also attended the evening as did his cabinet colleague Bill Shorten, whose electorate of Maribyrnong is where Melbourne racecourses Moonee Valley and Flemington are located.
Member for Riverina Michael McCormack, the former Deputy Prime Minister and passionate racing person, also attended as did former National Party leader Barnaby Joyce, liaising with industry figures including champion trainer Peter Moody, auction house representatives from Magic Millions and Inglis as well as a range of breeders from across the country.
Widden Stud principal Antony Thompson, who has thoroughbred breeding farms in the Hunter Valley in NSW and near Romsey in Victoria, said: "It's so important that the thoroughbred industry is getting its voice heard in Canberra and I'm grateful that TBA has taken the lead in this space.
"There was a lot of support for breeding and racing among those that attended and it's crucial we now work with those politicians to deal with the challenges the industry faces."