The decision by Premier Mark McGowan to keep WA's hard-border closed indefinitely has major implications for the Perth Magic Millions Yearling Sale.
WA was due to ease restrictions on February 5, however, Mr McGowan declared "it would be reckless and irresponsible to open up now" at a press conference on Thursday evening.
Up to 80,000 interstate and international passengers were expected to arrive in Perth in the first two weeks after February 5.  Among them would have been prospective buyers attending the Swan Valley Sale on Monday, 14 February and Tuesday, 15 February.
On Friday morning, WA Thoroughbred Breeders President Dr Fiona Lacey (pictured) said it was an evolving situation.
"Obviously, this news has come as something of a shock to all industry participants, and the full extent of the repercussions are not yet clearly understood.
"I know Magic Millions is working hard to put a plan in place that will result in the minimum impact on the sale timeline, and breeders will support them in whatever way we can.
"It is extremely disappointing that the eastern states buying bench will not have a physical presence at our sale but in this covid world, many buyers are quite comfortable buying without physical inspections, as long as the information provided on each horse is adequate (something all the Perth vendors are comfortable with).
"We have a really strong catalogue and the feedback I'm getting from trainers is that the overall quality is excellent and there are lots of outstanding types, so I'm confident that whatever the outcome of this covid hiccup, the sale will be a strong one."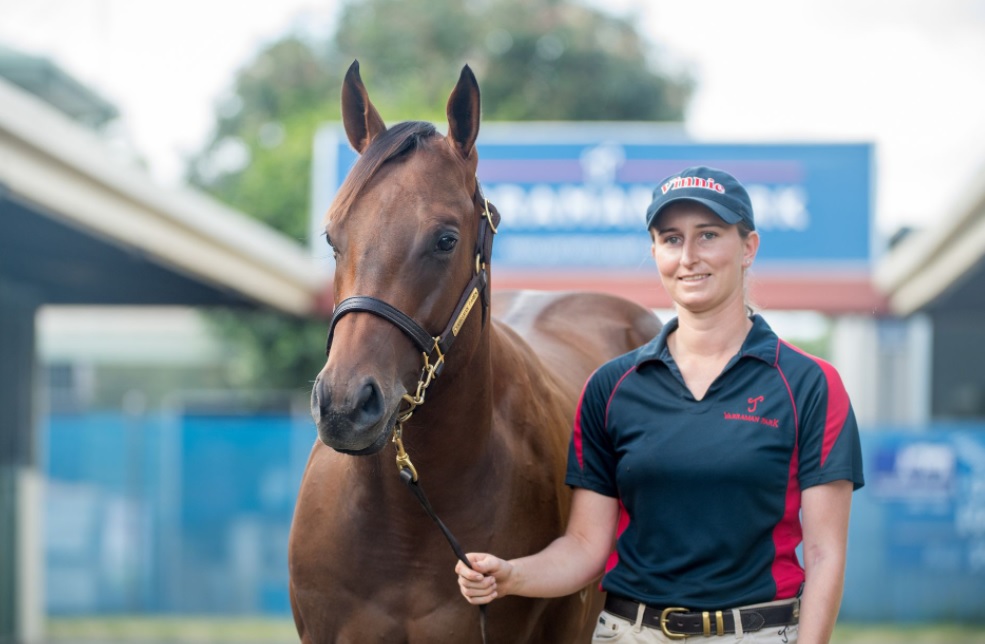 Magic Millions has just completed a record-breaking Gold Coast Sale where several vendors from WA were rewarded with profitable returns.  Dawson Stud principal Graham Daws is a regular interstate vendor and his Zoustar – Canny Time colt (pictured with Richelle Burgess) made $350,000 through Yarraman Park.
Dawson Stud has catalogued 16 yearlings for the Perth Magic Millions including colts by Nicconi, Rubick, Cable Bay and a locally-sired Universal Ruler half-brother to G1 Oakleigh Plate winner Portland Sky (Lot 39).
"It's a serious blow because it will clearly restrict agents and buyers coming from the East," Daws said.
"It's an excellent catalogue with breeders investing heavily in stud fees and upgrading mares only to find at the last minute the buying bench will not be at full strength.
"The isolation will stop their capacity to attend or fulfill criteria for an exemption.  On the other hand, it is critical the racing industry continues to function so yearling buyers will have good opportunities this year."
Dual-State trainers Lindsey Smith and Grant & Alana Williams have also been affected by the uncertainty.  "I did 10 fortnight quarantines at my farm," Smith recalled.  "Then I was locked up in a hotel room.  That was enough.  I haven't been back."
Grant & Alana Williams have yet to travel east to scout potential locations for their new base.  The husband-and-wife training team cut exclusive ties with Peters Investments to open a satellite stable in Victoria.
"We're still a long way away from making any plans," Grant Williams revealed.  "At the moment everything is on hold.  It's really hard to make any concrete plans until we've got a clearer idea about borders."
Mr McGowan gave no indication of when the WA border would fully reopen but he told The West Australian Newspaper a "range of factors" would be considered before another reopening date was set.  The Premier indicated he would like to see WA reach 80 or 90 per cent triple-dose coverage before reopening.  Currently, 25 per cent of West Australians aged 16 and over have received a third dose.