Dick Vincent burned the candle at both ends in every one of his 97 years so it was with a degree of disbelief to learn of his death last Tuesday.
Before graduating to Group 1 success with Barely A Moment as a thoroughbred breeder, Vincent was a nationally recognised cattle breeder and was President of the Australian Registered Cattle Breeders Association.
He took over as President of ARCBA in the 1970s when it was an organization beset with low membership, no money and no program.  Through his energy and foresight, it was restructured into a true national voice for the cattle breeding sector.
He was also President of the World Federation of Simmental Breeders and, after a lifetime's service to the industry, he was recognised with an Order of Australia in the 2015 Queen's Birthday Honours.
A renowned raconteur in his heyday, Dick's great sense of humour and lateral thinking was the salvation of many an industry meeting which could otherwise have bogged down on trivial issues.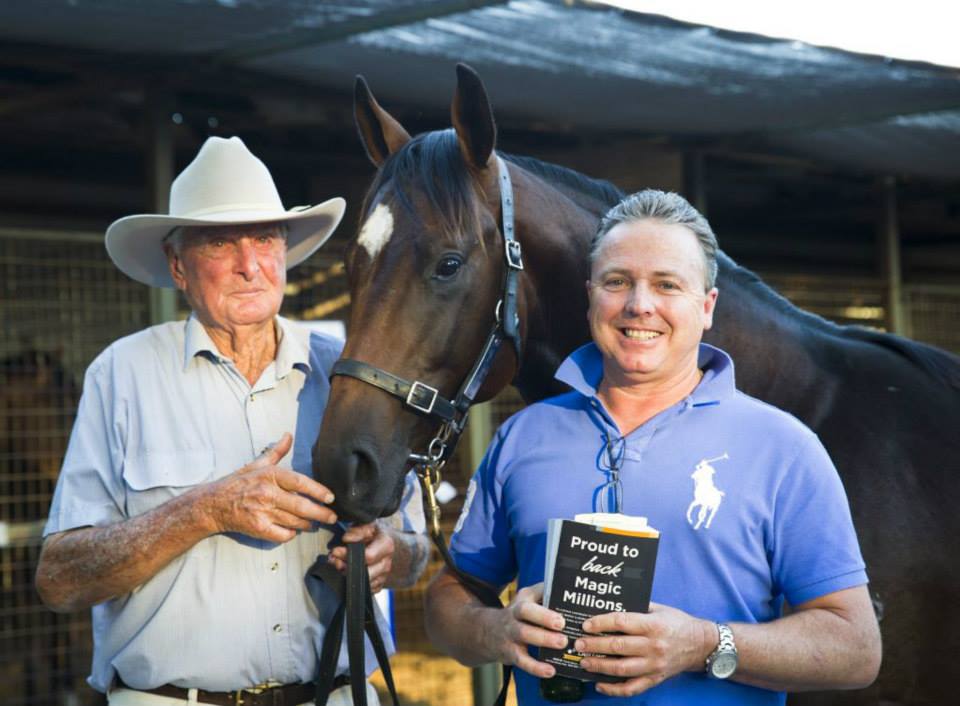 Vincent (pictured with trainer Trevor Andrews) was also successful in the thoroughbred sphere breeding and selling yearlings on and off since 1953.  He reached the pinnacle with Barely A Moment (Gilded Time) who made $58,000 at the 2003 Perth Magic Millions.
Barely A Moment was purchased by agent Mark Pilkington acting for Lindsay Park's David Hayes who trained him to Group 1 victories in the VRC Sires' Produce Stakes (1400m), Dubai Racing Club Cup (1400m) and Toorak Hcp (1600m).
Dick and his partner Jan Cornish also bred and consigned Cadenza (Oratorio) to the 2013 Perth Magic Millions from De Grey Park in Capel.  She was purchased by trainer Dan Morton for $60,000 and repaid that price-tag in one fell-swoop winning the following year's $250,000 Magic Millions 2YO Classic at Ascot.
Born in December 1924, Vincent graduated from Hale School and commenced working in the mid-west at 'The Grange' which was owned by his grandmother Francis Mitchell.  He enlisted in the RAAF during World War II and, after being discharged, took up horse breaking and share farming.
In 1950, a War Service loan allowed him to branch out and buy a grazing property at Toodyay.  Named Tanga and sitting on 1350 acres, it was the forerunner of many much larger stations he operated over the next 40 years at places as far removed as Carnarvon, Williams, Shark Bay, Mt Barker and Port Hedland.
Aged 75 at the turn of the century, Dick refused to retire gracefully and rest on his laurels.  ln 2002, he undertook an amazing horse ride through the Pilbara region with Jan to mark Year of the Outback.
Still living on the edge after turning 90, he was involved in a near-fatal car wreck, trampled twice and learned to walk again three times!
"I was nearly killed in the car accident," Vincent recalled in a 2018 interview.  "It took an hour and a half for them to cut me out.  About a year later a horse went over the top of me and smashed my hip.  And then a ram charged me and I broke a leg.
"But you've got to keep going.  If you don't, you hibernate very quickly."
Dick Vincent AO passed away peacefully at home in Capel and is survived by his partner Jan, children Peter and Jody and 12 grand-children and great grand-children.
Leading Perth bloodstock agent John Chalmers and his partner Kaye posted a heartfelt epitaph to one of the great characters of the cattle and bloodstock industries:  "A sharp mind, great foresight, boundless energy, hard work and a remarkable stockman made you a true legend Dick.  You were one of a kind and your unsurpassed friendship and loyalty will never be forgotten."